Lifestyle & Amenities

Lifestyle & Amenities

Lifestyle & Amenities
<

Previous
>

Next
Lifestyle & Amenities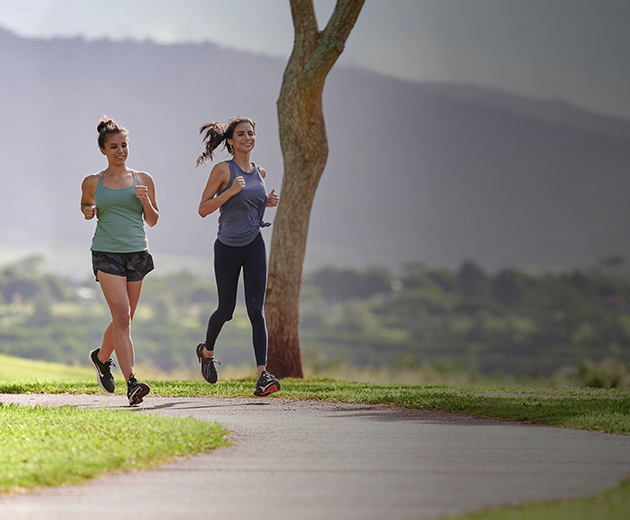 Lifestyle & Amenities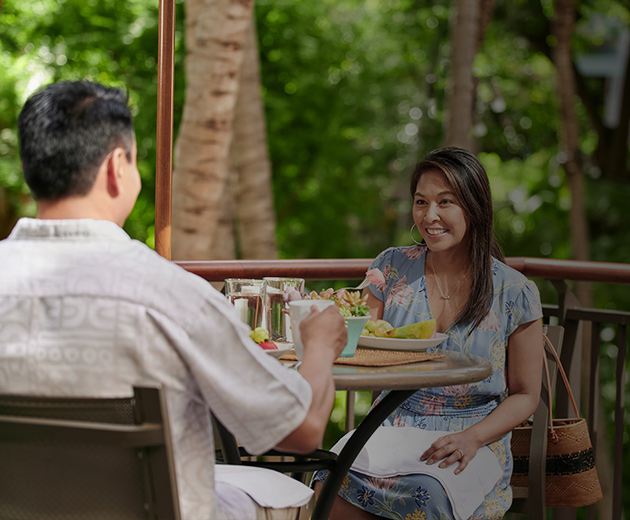 Lifestyle & Amenities
<

Previous
>

Next
Discover a one-of-a-kind lifestyle on Oʻahu that you'll only find at Koa Ridge. A unique experience where the buzz of cafes, shops, restaurants, and events blend seamlessly with the serenity of a beautifully natural and perfectly picturesque community. Koa Ridge is truly the best of all worlds.
A DAY IN THE "SURBAN" LIFE
A weekend at Koa Ridge might begin with a cool morning jog or a bike ride on the Hoʻāla Trail, followed by brunch with neighbors at your favorite spot in the Village. While you're there, you and your friends might browse the shops to see what's new, then spontaneously check out the farmers market in the Village. And there will always be something going on at the community center. Take a yoga class. Learn ʻukulele. Go for a swim. Or take the kids to the park. Here, you will never be at a loss for fun things to do.

Just because you live at Koa Ridge doesn't mean it's all food, fun, and entertainment. Like everyone, you have errands to run. Koa Ridge will make that convenient, too. Visit the grocery store or drop off the kids at daycare. You won't need to drive into town. It will all be right here. And when you're finished, you will have earned a cocktail at one of the nearby restaurants. Maybe you will decide to stay for dinner, or maybe you head home and cook up that fresh local fish you bought and dine under the stars on your lānai. It's a perfect ending to a perfect weekend.
WHERE A SENSE OF COMMUNITY THRIVES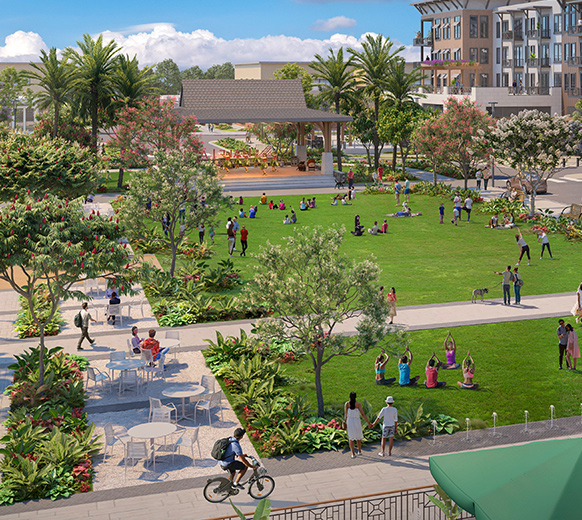 The Village and Gateway at Koa Ridge
When you live at Koa Ridge, you'll feel like you are part of a bigger community. An ʻohana, really. It was designed that way. At its core, you'll find the Village and Gateway at Koa Ridge alive with sidewalk cafes, retail shops, and restaurants. It's a place that cultivates conversation, creativity, new ideas, or just a good talk story.

In the middle of it all will be Hale Lau Koa (house of Koa leaves), where people gather for cultural events and other activities. Art exhibits. Craft shows. Hula performances. Hawaiian storytelling. If there's an event, it will happen here. It will also be a great spot to picnic, grab a bite to eat from a food truck, or meet a friend for a smoothie. The sense of community here is palpable. You can feel it all around you. It's in the greeting from a neighbor, a talent shared, or a simple smile and a shaka.
Images, renderings, features, colors, sizes and other information are approximate and for illustrative purposes only. CCHHI reserves the right to make changes at any time without notice or obligation.
WHERE EVERYTHING IS JUST A STROLL OR A BIKE RIDE AWAY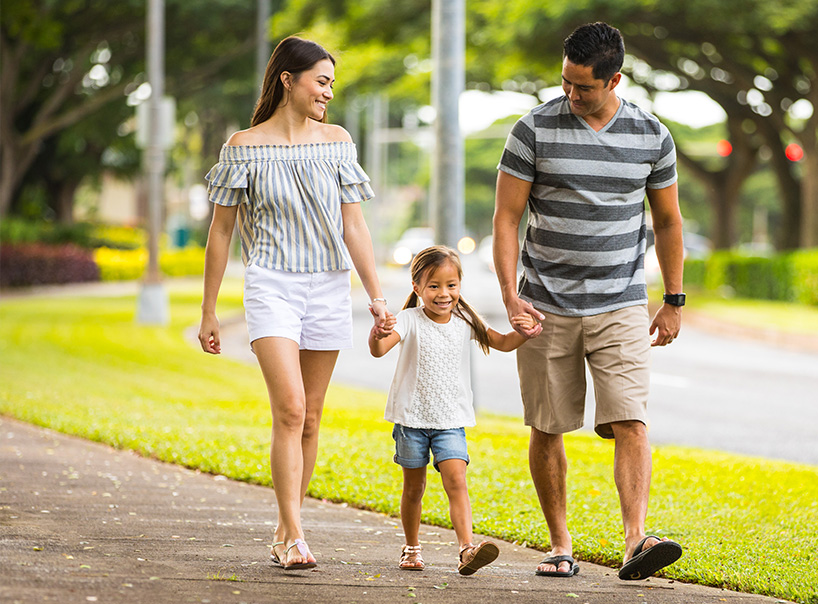 Ho'āla Trail
You've been waiting to live in a place like this. An Island community that has everything you need. So much, in fact, you rarely have to leave. The seven-and-a-half-mile Ho'āla Trail will connect you to the services and amenities you use most, and since it will be separated from the roadways, you'll feel a lot safer. Hoʽāla means "path to awakening", and rightfully so. This gorgeous landscaped trail will have 'okipu'u stops throughout. As you may recall, these were clearings in the ancestral forest that let light reach the ʻaina to create new life. These stops will allow you to learn, and think about, the history of Koa Ridge. Because sometimes the journey is just as important as the destination.
WHERE HEALTH AND WELLNESS FIT SEAMLESSLY INTO EVERYDAY LIFE
Parks and Open Spaces
The natural beauty of Koa Ridge makes it an idyllic place for fitness and good health. Native plants and flowers sprinkle community parks and gardens, inspiring an active, outdoor lifestyle. Kalāhikiola Park and Ho'āla Trail will also invite you to spend time outdoors. Biking, running, brisk walking, or just strolling. It all counts. Maybe youʻve been meaning to dust off your mitt and play catch with your kids or grandkids on the weekend. Or how about that old frisbee in the garage? Maybe give that a whirl. Now you'll have places to do it. All of them more beautiful than the gym. You'll find exercising is something you actually want to do, instead of have to do.
WHERE FAMILY TIME IS CHERISHED
Community Center
Time with friends and family is precious. You want to make the absolute most of it. The Koa Ridge community center will be a great place for a get-together, be it for an activity with friends or the birthday party of a lifetime. Enjoy the barbecue areas. Or reserve the party room for a graduation, retirement, milestone anniversary, or whatever the celebration.

The community center will be just one of the many places to congregate at Koa Ridge. There will also be cafes and restaurants, shops, the Hale Lau Koa and Ho'āla Trail, and the list goes on. The whole point is spending time together and not having to go far to do it. You can stay right here.
WHERE A CONVENIENT LOCATION MEANS A BETTER QUALITY OF LIFE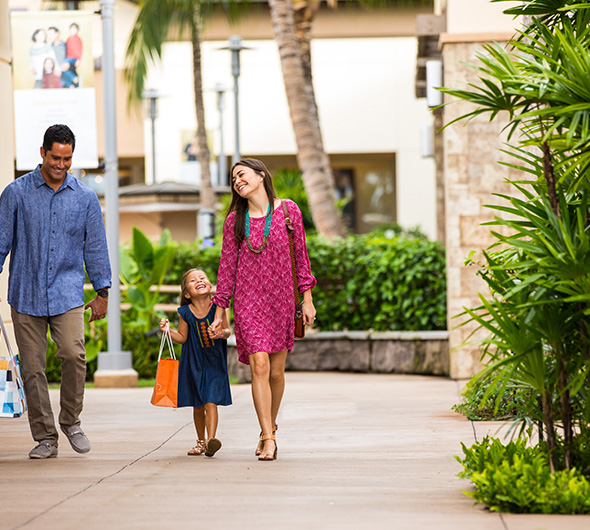 At Koa Ridge, you'll spend less time commuting and more time enjoying. For those who take advantage of employment opportunities at the Village or Gateway at Koa Ridge, the commute from home will be mere minutes. Just think of it. You have a fun job at one of the nearby shops or restaurants, and you will be able to walk or bike to work! Does life get any better?

If you have a job outside of Koa Ridge, you're still just minutes away from major shopping centers, restaurants, and schools. Downtown Honolulu is about a fifteen-mile drive, and it's only eleven miles to the Daniel K. Inouye International Airport.
WHERE A VARIETY OF HOME STYLES MEANS YOU'LL FIND THE PERFECT ONE FOR YOU
The homes at Koa Ridge are diverse and creative, much like its residents. The design philosophy recognizes the whimsy of distinctive details and the beauty of great craftsmanship. A variety of single- and multi-family condominium homes with modern floor plans will be offered at a wide spectrum of price points, and 30% of our homes will be within the affordable housing range. It's a commitment we made to the community early on.

Perhaps you're buying a home for the first time, looking to upgrade, or maybe you want to downsize, Koa Ridge has the home for you. Take a look and see for yourself.
View the flipbook version of our new Koa Ridge brochure.

Learn all about Koa Ridge and Castle & Cooke Hawai'i in this printable and downloadable brochure.
View the Koa Ridge Brochure >
WANT TO LEARN MORE?
Contact a Castle & Cooke Homes Hawai'i Sales Representative today or register for our Advantage Program to receive priority updates and other exclusive benefits.