Helping to Reforest Hawai'i
We're committed to planting a Koa tree for every home sold at Koa Ridge.
In support of our corporate mission of Investing in Hawaii, Creating Communities, and Delivering Dreams, we've partnered with the non-profit organization Saving Hawaii's Forests to help fulfill our commitment to plant a Koa tree for every home sold. This is our opportunity to reduce the carbon footprint at Koa Ridge and make a positive impact on the environment.
Let's do this together as a community
Contributing in a postive way to the environment and your community just feels great, and that's why we're sharing this experience with our homeowners.
The very first Koa tree in our One Koa Tree for Every Home program has been planted in the names of our first homeowners, Michael and Gaynelle.
Here's how it works
---
1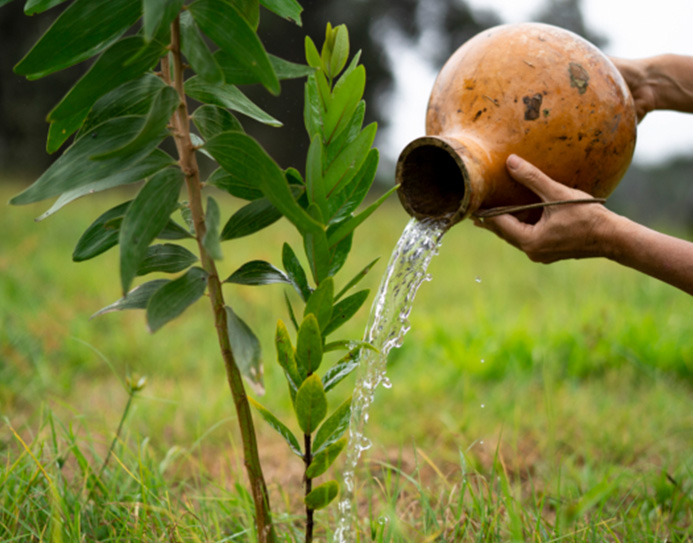 When you close on the purchase of a new home at Koa Ridge, a Koa tree will be planted in your name. That tree will be cared for and live out its full life in a native Hawaiian forest.
2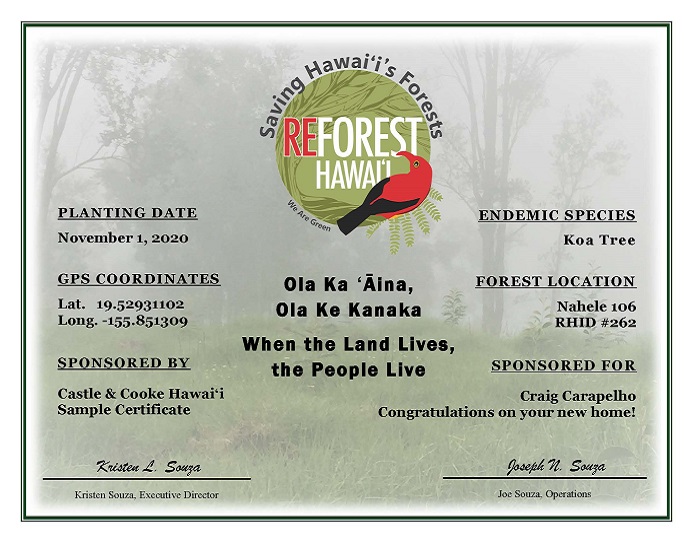 Each homeowner will receive a sponsorship certificate that will include the type of tree planted and the GPS coordinates so you can view the tree's location online.
---
The Koa tree symbolizes longevity, courage, strength, and resilience. Let's work together as a community to ensure this noble tree is around for many future generations to come.
By working together, we can all make a positive impact on our community and the environment.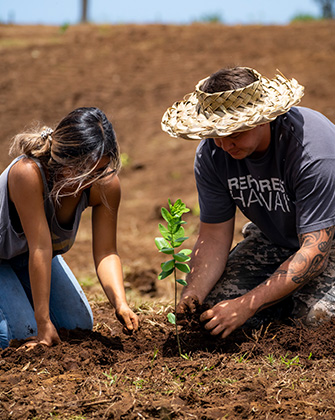 These hands give life to the land and the community, binding and bonding people and place together.
Keiki Koa - Symbol of New Life
Like a sprouting Koa tree, the Hale Lau Koa (house of Koa leaves) community at Koa Ridge provides a new and unique 'okipu'u forest clearing as a place for families to plant their roots, cultivate the community, and grow in life
Learn More >