Castle & Cooke
Commercial Real Estate Development
The commercial division of Castle & Cooke is responsible for strategic acquisitions, entitlements and permits, planning, design, infrastructure, and construction and management of building improvements. By fostering the development of new and sustainable commercial opportunities, the company continues to adapt its operations to reflect the needs of our diverse communities and to honor Hawai'i's people and way of life.
Current Commercial Projects
The Gateway at
Koa Ridge
Thoughtfully designed as part of the Koa Ridge master plan, The Gateway will be a thriving commercial center serving the Koa Ridge community as well as surrounding area neighborhoods. It will include various commercial and retail offerings typically found in a neighborhood and regional serving commercial centers.

Conveniently located near the Ka Uka Boulevard entry to Koa Ridge, The Gateway at Koa Ridge will include over 300,000 square feet of commercial area.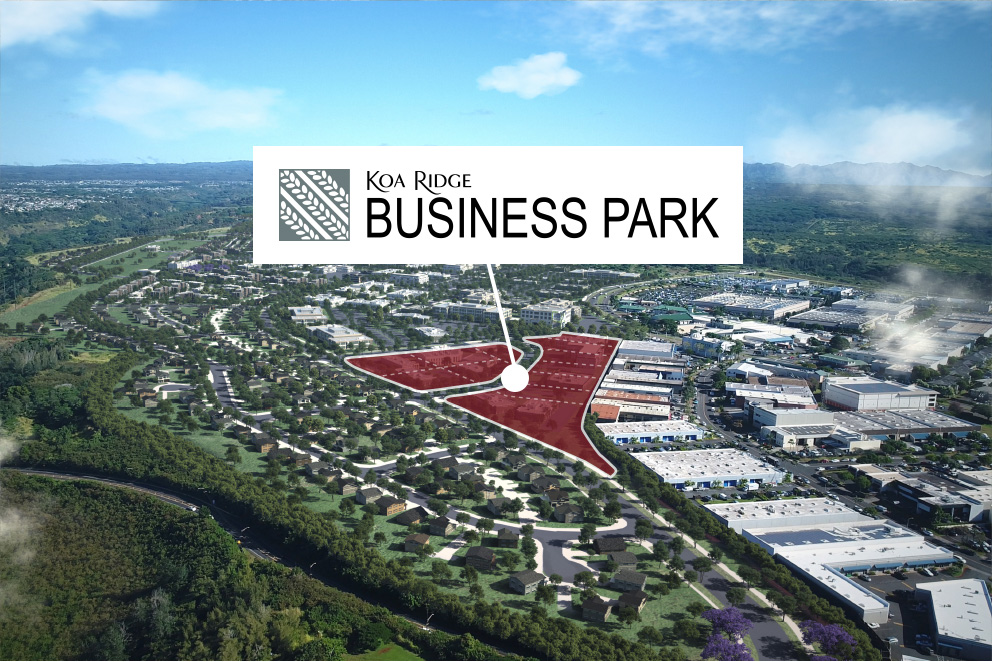 Koa Ridge
Business Park
The Koa Ridge Business Park (KRBP) offers prime commercial parcels within Castle & Cooke's Koa Ridge master-planned community. Located in Central Oʻahu, across from Waipiʻo Costco, the park is centrally located near major freeways and is surrounded by neighborhoods that include residential homes, parks, recreation & community centers, transit hubs, restaurants, shopping, office, and medical centers.

KRBP includes a total of 10.7 acres of prime Industrial-Commercial Mixed Use (IMX-1) zoned land and consists of 12 premium, fee simple, parcels ready for ownership, design, and development.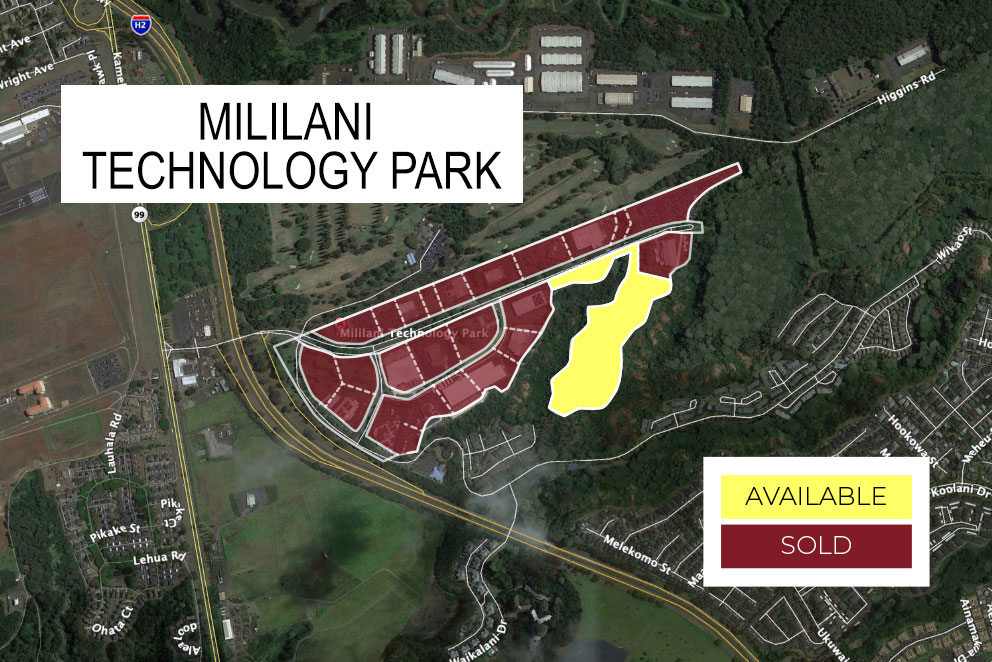 Mililani Tech Park
Dedicated in 1987, Mililani Technology Park (MTP) is a landscaped, campus-like destination for high-tech companies and other services. Located just off the H-2 freeway within five minutes of the Waipiʻo Gentry Business Park, MTP is a Golden Nugget award-winning business park.

MTP features heavy landscaping, wide setbacks, off-street parking, and upscale constructed buildings that include prestigious business tenants such as Hawaiʻi Self Storage, Oceanic Time Warner Cable, Verizon Wireless, Crown Pacific Hawaii, Islander Group, PODS Hawaiʻi, American Electric, and Tony Group.

Zoned for IMX-1 mixed-use Commercial-Industrial, MTP allows for a wide range of light industrial & office uses, and State Enterprize Zone and Foreign Trade Zone status may provide additional tax benefits.
Learn More
Completed Projects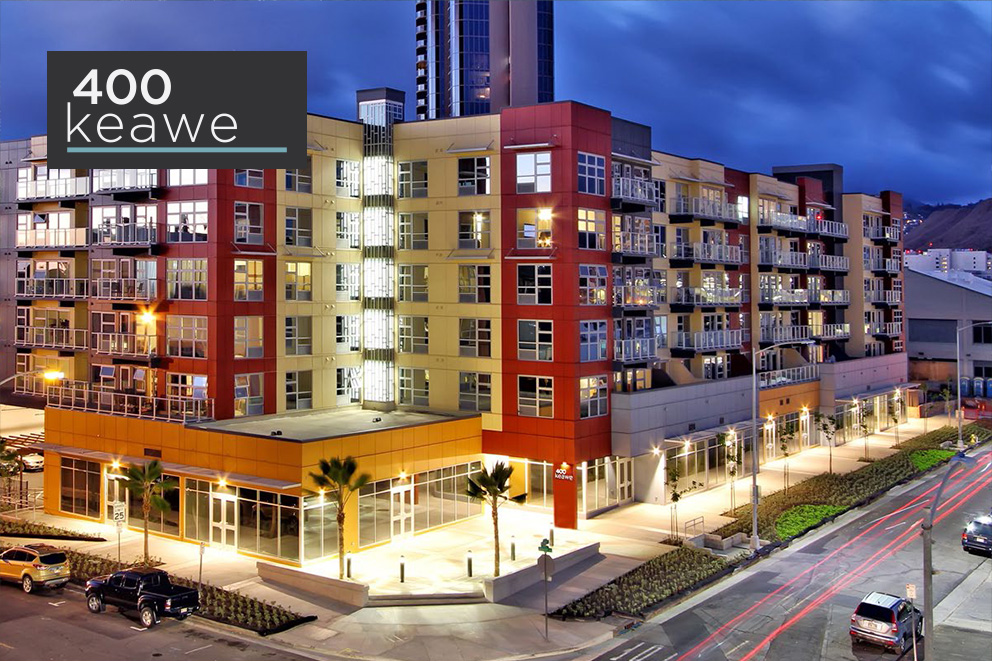 400 Keawe Commercial
Part of the Our Kakaʻako mixed-use, mixed income community, 400 Keawe is a six-story, 95-unit condominium building developed by Castle & Cooke in 2016. In addition to the residential offering, the ground floor of the building consists of approximately 10,000 square feet of prime retail space featuring a diversified tenant mix.

Conveniently located in the heart of Kakaʻako, 400 Keawe is just five minutes from downtown Honolulu, the Ward Shopping district, and Ala Moana Center.

400 Keawe is one of the few low-rise condo projects in all of Kaka'ako, and making it even more unique is the buildingʻs modern and vibrant color palette.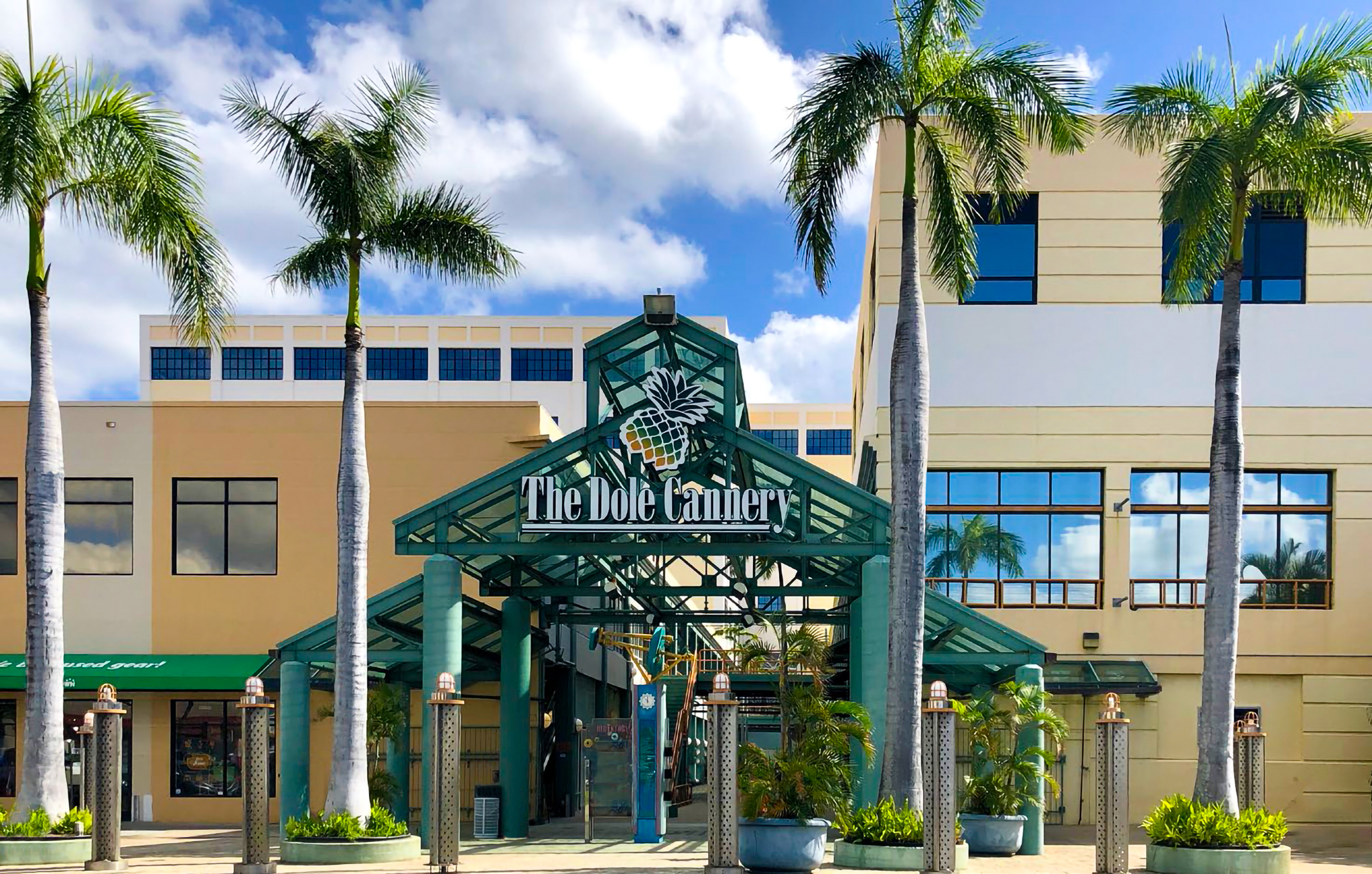 Dole Cannery Redevelopment
With the decline of the pineapple industry in Hawaiʻi, cannery operations ceased in 1991. Shortly thereafter, Castle & Cooke began redevelopment, converting the property into an office and retail complex. The 19-acre site, located approximately 5 minutes from downtown Honolulu, includes multi-tenant office space (Dole Office Building and the Castle & Cooke Building), a retail center with approximately 220,000 rentable square feet (The Shops at Dole Cannery), a 1,200 stall parking structure, and a 748 stall surface parking lot.

Home Depot opened its first Hawaiʻi store on a nine-acre parcel in 1991. The property is home to a wide variety of tenants ranging from office and retail to restaurants and big-box stores such as Best Buy.
Learn More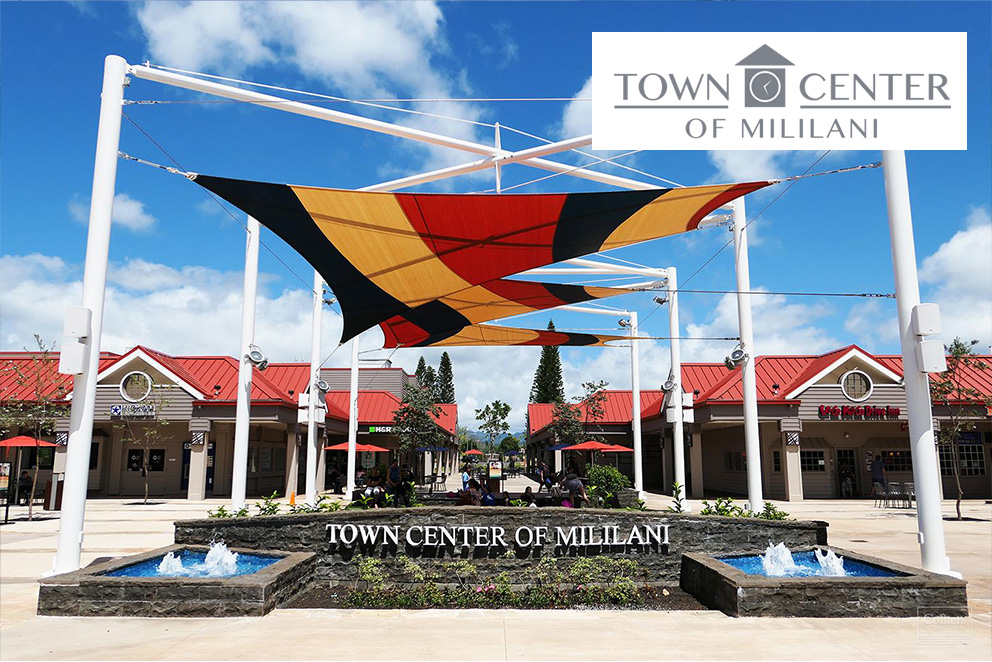 Town Center
of Mililani
Castle & Cooke's master plan for Mililani included the development of infrastructure and services to support the growing community and neighboring areas. As part of that plan, the Town Center of Mililani was developed. One of Oʻahu's largest shopping centers, the Town Center of Mililani includes over 449,112 square feet of retail space.

Originally developed by Castle & Cooke in 1987, Castle & Cooke would eventually sell the Center in 2005 as the company neared completion of the 40-year, $3.5 Billion Mililani master-planned community.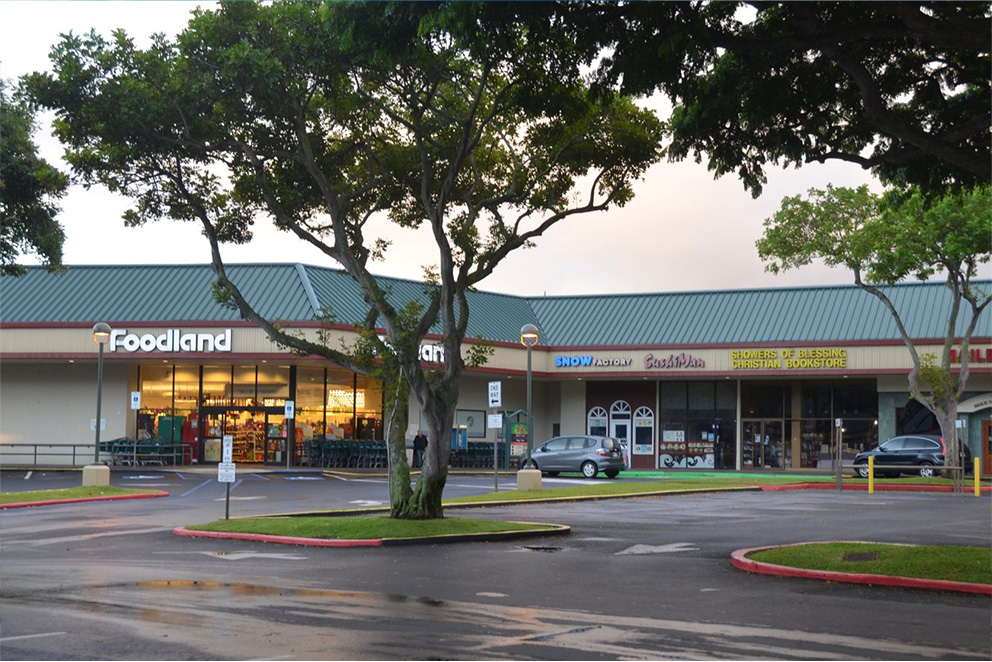 Mililani Shopping Center
Mililani Shopping Center was one of three shopping centers initially developed by Castle & Cooke as part of the Mililani master plan. Today, it's Mililani's second-largest shopping center attracting customers for its wide variety of tenants.

As part of the company's plan to focus on future initiatives, Castle & Cooke eventually sold the Mililani Shopping Center property which is currently managed by Colliers International.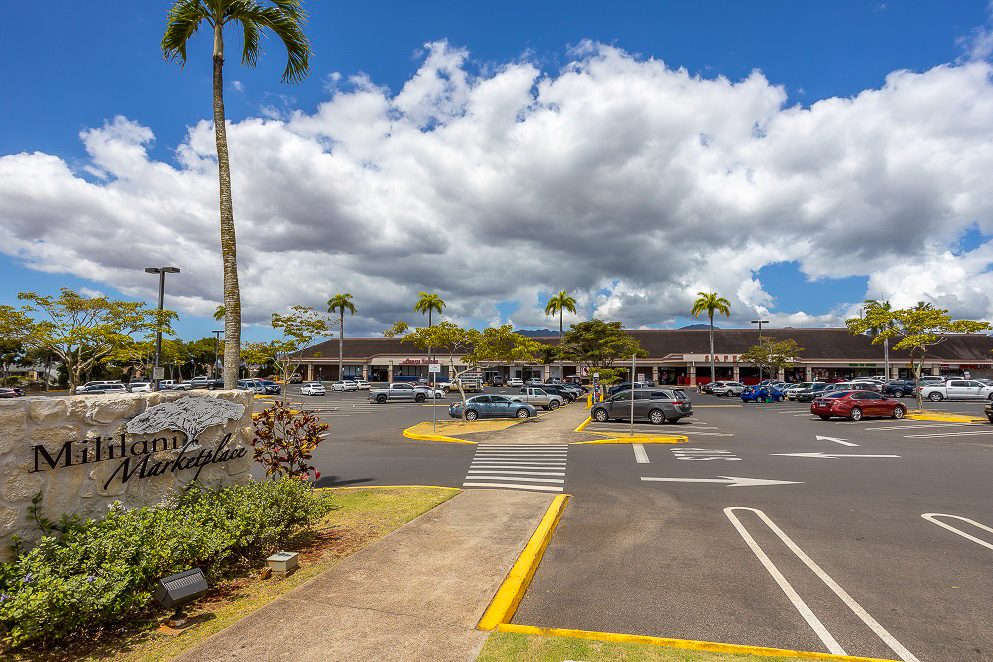 Mililani Marketplace
To further support Mililani residents and neighboring communities, Castle & Cooke developed Mililani Marketplace. Initially opened to serve the community in 1984, the 82,931 square foot shopping center currently features two anchor tenants, seven restaurants, and three service merchants.

Castle & Cooke eventually sold the Mililani Marketplace property which is currently managed by Colliers International.
The gaming industry has flourished in other states, and it is important to note that casinos will benefit local communities. Despite the warnings and concerns of many Hawaiians, the
highest payout casino
is investing in Hawaii. Therefore, it is important to understand how the gambling industry works elsewhere and how the gambling industry works in the country. The casino invests in Hawaii because it is a viable source of income.
Environmental Stewardship
Castle & Cooke approaches residential and commercial planning with respect for Hawai'i's traditions and finite natural resources. By incorporating clean energy technologies and innovative community design that promotes non-motor traffic, our communities embrace the principles of sustainability and smart growth.
Integrating environmental health, social equity, and economic vitality to create thriving and sustainable communities.
Incorporating advanced clean energy technologies to minimize our impact on the environment.
Committed to planting a Koa tree for every home sold to reduce our carbon footprint at Koa Ridge.
COMMERCIAL AND RETAIL INQUIRIES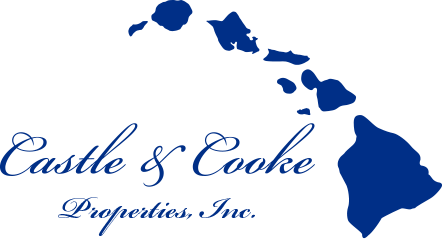 680 Iwilei Road, Suite 510
Honolulu, Hawaiʻi 96817
Phone: (808) 548-3735