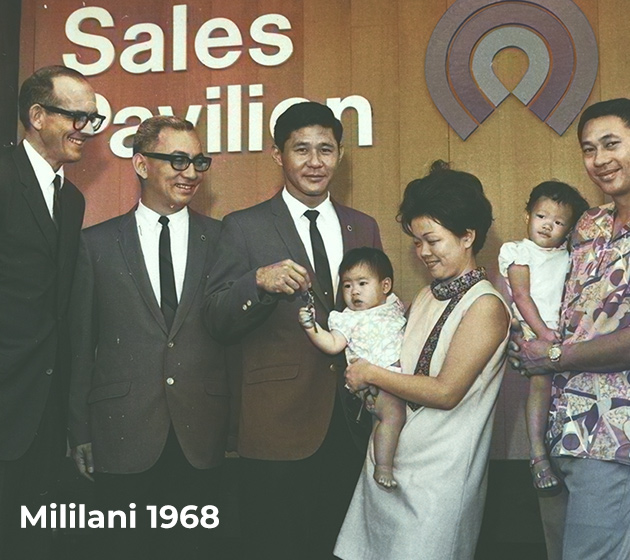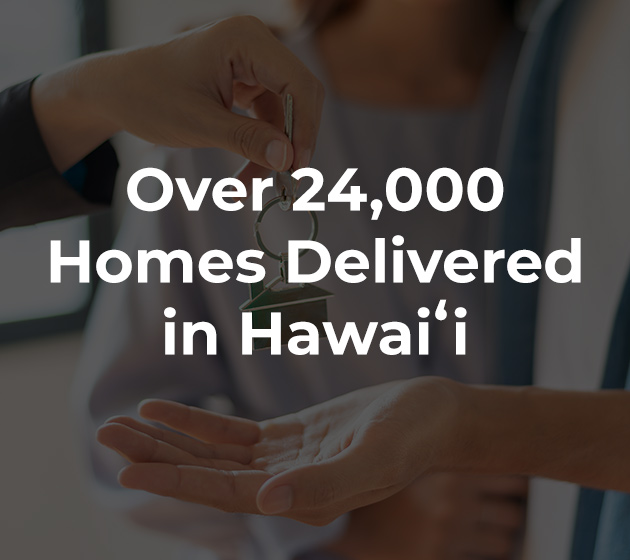 Castle & Cooke Homes Hawaiʻi
Hawaiʻi's Leading Builder of Planned Communities
Starting with our first real estate development in 1963, then our flagship Mililani community in 1968, and leading up to our new Koa Ridge master-planned community today, we're proud of our unmatched legacy of building Hawaiʻi communities and helping local families realize their dream of homeownership.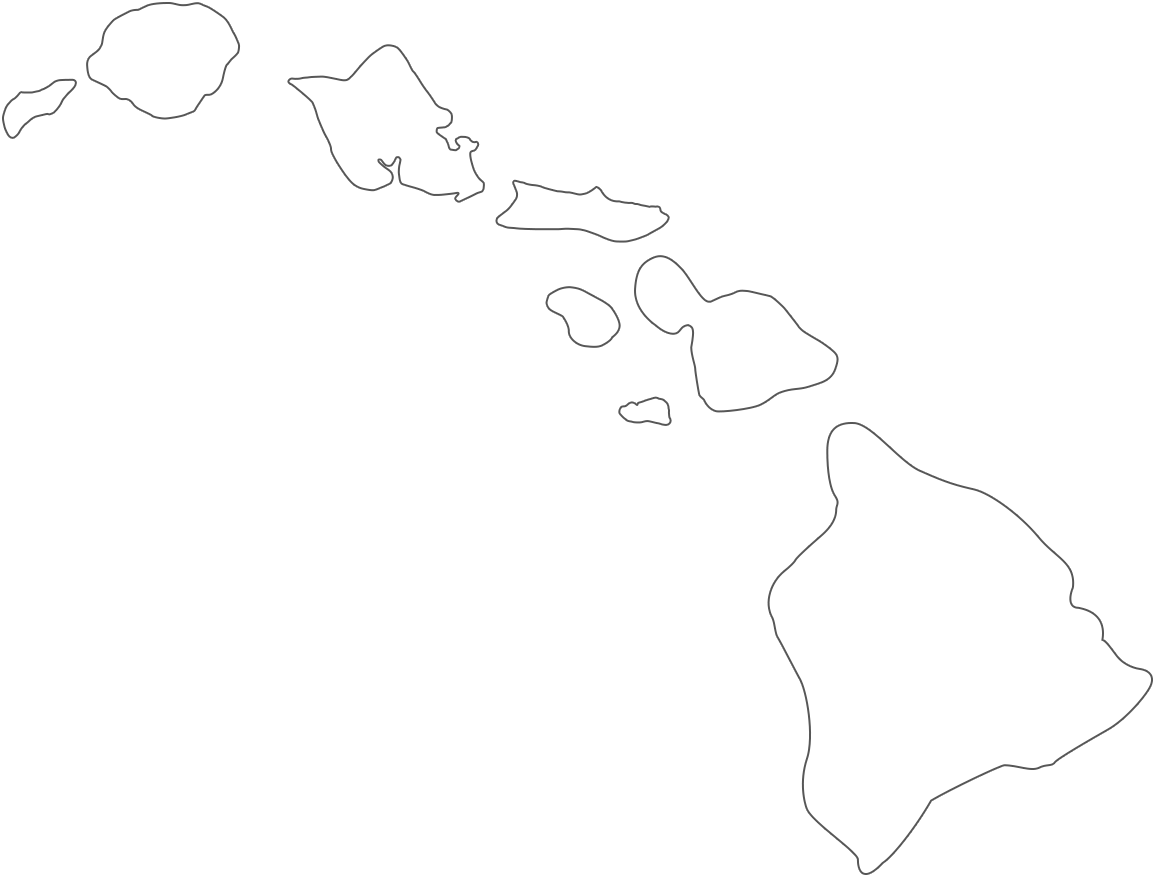 Dedicated to providing homes for Hawaiʻi families

Over 24,000 New Homes Delivered Since 1963

Over 9,000 Affordable Homes for Hawaiʻi Families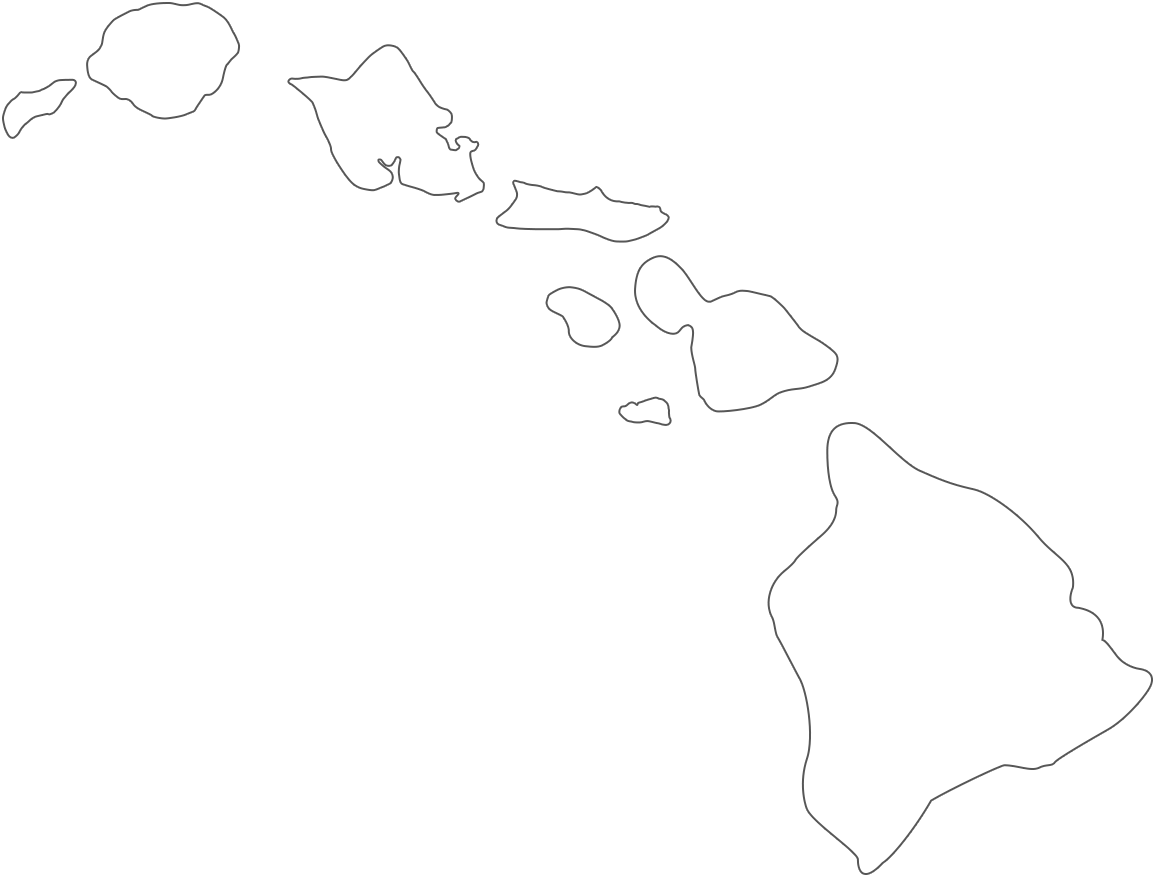 A Proud Record of Firsts in Hawaii
FIRST TO OFFER
Affordable Homes
Fee-Simple Communities
Steel Framing
Zero Lot-Line Communities
Expandable Multi-Family Homes
Current Communities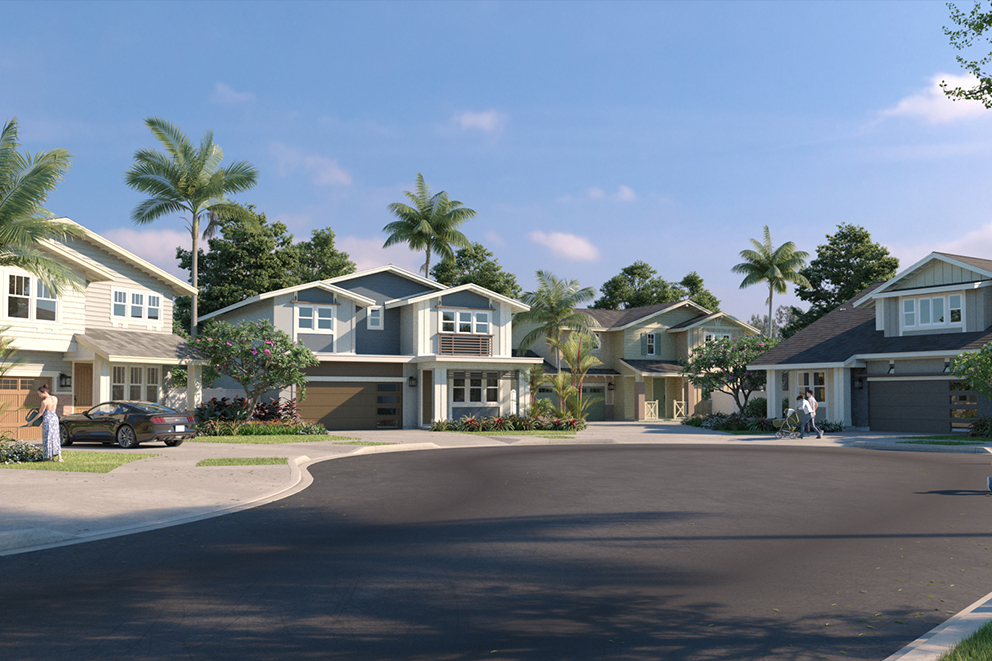 Koa Ridge
Located in Central O'ahu between downtown Honolulu and the second city of Kapolei, Koa Ridge is Hawaiʻi's first "surban" master-planned community—combining the spaciousness and beauty of a suburban location with all the conveniences of urban living. After 20 years of planning and development, Castle & Cooke broke ground in 2017 on the $2 Billion, mixed-use development that sits on 576 acres of land between Mililani and Waipio.

Koa Ridge will include a variety of single- and multi-family condominium homes with modern floor plans offered at a wide spectrum of price points. 30% of the homes will be within the affordable housing range. Ultimately, Koa Ridge will provide approximately 3,500 homes designed for Hawaiʻi families.

The first commercial projects being developed are The Gateway at Koa Ridge and the Koa Ridge Business Park. The Gateway includes plans for retail stores, restaurants, a big box store, a grocery store, and other services. The Koa Ridge Business Park contains 12 premium, fee-simple parcels on 10.7 acres with approximately 466,000 square feet of prime Industrial-Commercial Mixed Use (IMX-1) zoned land.

A state-of-the-art Healthcare Campus is planned for Koa Ridge on 16 acres being donated by Castle & Cooke. Additional land donations include 12 acres for a public elementary school and 8 acres for a fire station and other uses such as churches, recreation areas, and daycare centers.

Koa Ridge is projected to create over 1,000 construction jobs and 1,300 indirect jobs each year. In addition, 2,000 permanent jobs will be created at the Healthcare Campus, the planned Elementary School, the Koa Ridge Business Park, and at the retail and restaurant establishments in the Village and The Gateway.

Committed to building toward a sustainable future for Hawaiʻi, Koa Ridge incorporates clean energy technologies, as well as innovative community design that promotes non-motor traffic. By providing jobs, services, and amenities all within walking distance at Koa Ridge, we will help decrease the number of cars on Hawaiʻi's roads, thereby reducing traffic and carbon emissions.

visit the koa ridge website
Koa Ridge Neighborhoods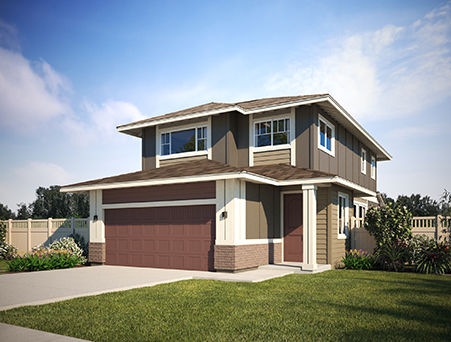 Waioha II Phase I
Detached Single-Family Condominiums
3 and 4 Bedroom Floor Plans
950 to 1,482 SF of Living Area
From the Mid $930s (FS)
Learn More
Malu Koa West
Condominium Homes
Studio, 1, 2, and 3 Bedroom Floor Plans
528 to 1,297 SF of Living Area
Coming Soon
Learn More
Completed Residential
Communities
Mililani
Mililani is Castle & Cooke's award-winning, flagship master-planned in Central Oʻahu that was developed over a 40-year period, and now consists of over 20 unique home series and approximately 16,000 homes.

Planning for Mililani began in 1958, and residential homes in Mililani Town, the community's first offering, went to market in 1968. Ground was broken for Mililani Mauka, the final phase of the company's master plan, in 1990.

Over the years, Mililani has won numerous building industry and community design awards, including being named All-America City in 1986 by the National Civic League.

Today, Mililani is home to over 50,000 residents who enjoy its many recreational, educational, and business opportunities. Known for its wide tree-lined streets and abundant open spaces, the planned community includes seven public schools, more than 21 parks, 7 recreation centers, and about 12 churches. There also are 3 major shopping centers—Town Center of Mililani, Mililani Shopping Center, and Mililani Market Place—and a variety of other health- and service-related businesses.

Sales of the final phase of Mililani took place in 2008, closing a major chapter in the companyʻs 150-year history. Ultimately, Castle & Cooke invested over $3.5 billion in infrastructure and improvements to create this one-of-a-kind dream community.
Mililani Development Timeline
1958: Planning for Mililani begins
1968: Sales begin for Mililani ("to look skyward" in Hawaiian)
1971: 1,200 Mililani homes are completed
1975: Mililani has 3,042 homes and a population of 12,396
1981: 6,200 homes exist in Mililani, housing nearly 22,000 residents
1986: Mililani named Hawaii's only "All-America City" by the National Civic League
1990: Construction begins on Mililani Mauka
2005: Money magazine named Mililani as one of the best places to live in the U.S.
2008:Final homes are built and sold in Mililani
Island Courtyards
American Classics
Nohona at Mililani
Island Classics
Heritage at Lehiwa
Reflections
Encore
Destiny
Legacy
The Colonials
Hoaloha Ike
Havens at Iʻi Vistas
Pacific Islanders
Island Bungalows
Pacific Heritage
Ku'ulako
Northpointe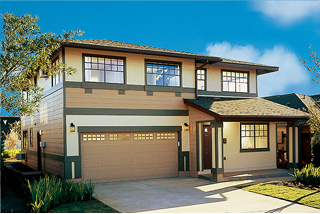 Islanders
Woodcrest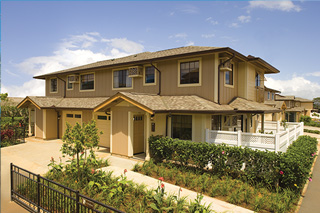 Pacific Traditions
Oʻahu and Neighbor Island Communities
Environmental Stewardship
Castle & Cooke approaches residential and commercial planning with respect for Hawai'i's traditions and finite natural resources. By incorporating clean energy technologies and innovative community design that promote non-motor traffic, our communities embrace the principles of sustainability and smart growth.
Integrating environmental health, social equity, and economic vitality to create thriving communities.
Incorporating advanced clean energy technologies to minimize our impact on the environment.
Committed to planting a Koa tree for every home sold to reduce our carbon footprint at Koa Ridge.
residential inquiries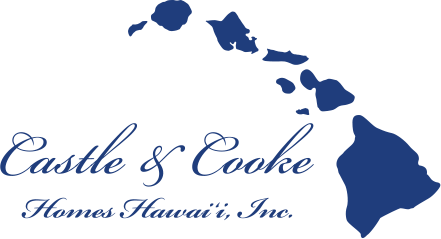 680 Iwilei Road, Suite 510
Honolulu, Hawaiʻi 96817

Residential Real Estate Sales
Phone: (808) 626-1133